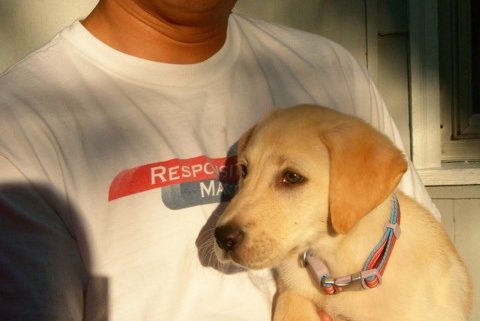 Happy New Year everyone!
Ray Ruecker with Connect 5000 here.
I survived the holidays and no in-laws or relatives got harmed in the process. (I'm kidding.)
Personal story: My wife and I got married Memorial Day weekend in 2005. We agreed the first year of marriage we wouldn't start a family or get any pets as we transitioned to being newlyweds.
A year later, my wife said she wanted a baby. I said, "Let's get a dog.". So we did. We went to a breeder and picked out a 6 week old Labrador Retriever and brought her home 12 and a half years ago.
Zoey was a wonderful dog and great companion for our household. In April 2018, we noticed she had a malignant mass on her ear and she had surgery in July 2018. In December, her health started deteriorating badly and unfortunately we had to send her to doggie heaven on December 28.
She was a wonderful dog and will be sorely missed in our family.
What's the sales lesson here?
There's no obvious lesson but here's a takeaway if you want one:
When you're communicating with clients or prospects by phone, email, or in person, you never truly know what's going on in their personal or professional lives. Us humans can put on a good fake front. I know for me personally as we made plans to take our dog to the vet for end of life finality, I was pretty quiet and stoic on the outside.
If they seem down, distracted, or impersonal, there may be things going on in their lives that you may know nothing about.
I'm pretty extroverted and social, but I can keep a good front like the rest of world when I don't feel like showing my true feelings.
Your prospects and clients can do the same.
Cheers to a successful 2019!
https://connect5000.com/wp-content/uploads/2019/01/Zoey.jpg
640
480
Ray Ruecker
https://t1l.b45.myftpupload.com/wp-content/uploads/2023/08/Connect-5000_Logo_Final-300x73.png
Ray Ruecker
2019-01-08 18:24:48
2019-01-08 18:28:30
The life of Zoey Anne Ruecker